Border Gateway Protocol BGP Tutorial
Type of connection to ISP

BGP is often used to connect to the ISP so we list here all the type of connection to the ISP.
Single homed
Your company may connect to ISP in several ways. The most popular and simple way is single homed with a single link between the company and the ISP. With this design, only one possible next-hop router exists for all routes to the Internet.

A big disadvantage of this design is when the link fails or either of the routers fails, the connection to the Internet fails as well. But of course, this design saves money comparing to multiple connections to the Internet designs and in fact it is the only reason for small company to accept this design.
With this design we don't need BGP in fact, all things we need are:
+ A default route from the company to the ISP
+ A static route from the ISP to the company's public address range
Dual homed
The next design is called "dual homed", in which the "dual" word refers to the designs with two links to the same router.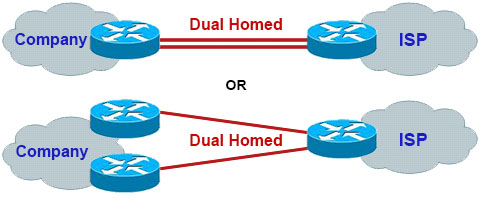 In this design we can use BGP to share the traffic between two routers of the company with our specific ratio (load balancing) or fail over. Of course this design is better in redundancy than the first one but it still has a "single point of failure" at the ISP router.
Single Multihomed
The next design is called "single multihomed" refers to:
+ Having connections to multiple ISPs from one router at the company
+ Single link per ISP.

This design is good if we want to separate important traffic to a specific ISP while still has the other ISP as the fail over path.
Dual Multihomed
And the last design is called "dual multihomed" refers to:
+ Multiple links per ISP
+ Multiple links to Company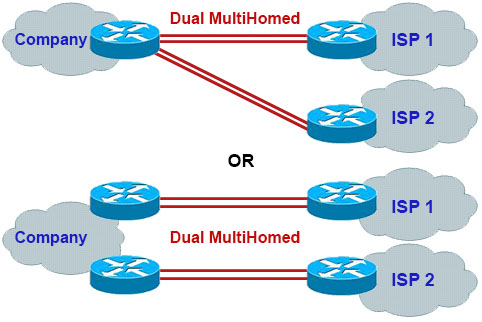 If your company has a strong budget then Dual Multihomed design is ideal to make sure your connection to outside is always up. And BGP is highly recommended in this case.
In conclusion, except Single Homed design, BGP can be used effectively to control the traffic between your company/corporation to ISPs.
To learn about BGP Configuration please read our Basic BGP Configuration tutorial.