SDN Solution
Question 1

Explanation
The Cisco Application Policy Infrastructure Controller (APIC) is the main architectural component of the Cisco ACI solution. It is the unified point of automation and management for the Cisco ACI fabric, policy enforcement, and health monitoring. The Cisco APIC is a centralized clustered controller that optimizes performance, supports any application anywhere, and unifies operation of physical and virtual environments. The controller manages and operates a scalable multitenant Cisco ACI fabric.
Reference: https://www.cisco.com/c/dam/en/us/products/collateral/cloud-systems-management/aci-fabric-controller/at-a-glance-c45-729864.pdf
Question 2

Explanation
A northbound interface is an interface that allows a particular component of a network to communicate with a higher-level component. Conversely, a southbound interface allows a particular network component to communicate with a lower-level component.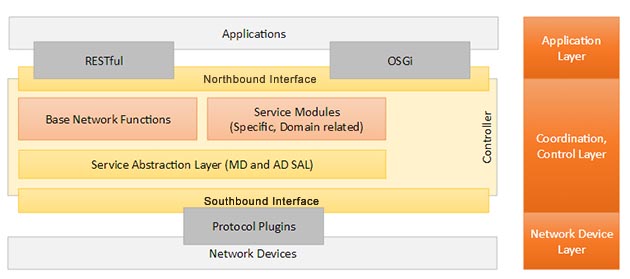 The northbound APIs on an SDN controller enable applications and orchestration systems to program the network and request services from it.
Southbound interfaces are implemented with a Service Abstraction Layer (SAL) which speak to network devices using SNMP and CLI (Command Line Interface) of the elements that make up the network. The main functions of SAL are:
+ Expose device services and capabilities to apps
+ Determine how to fulfill requested service irrespective of the underlying protocol
Note:
+ An API is a method for one application (program) to exchange data with another application.
+ Interface here refers to the "software interface", not the physical interfaces.